What does being a Methodist School mean?
A traditional summary of the Methodist teaching:
"Do all the good you can, by all the means you can, in all the ways you can, in all the places you can, at all the times you can, to all the people you can, as long as ever you can." 
John Wesley 
This is the core ethos of our school 'family' and is omnipresent in every conversation or choice we make as members of our school community. 
Find out more about what it means to be a Methodist School by clicking here: Thinking About… – What does it mean to be a Methodist school? – YouTube
Background 
The Methodist Church was founded by John Wesley in the mid-1700s. He believed that Christianity and learning should be equal for all as all are equal. He travelled Britain, America and Europe teaching to assembled groups in the open air. Our school was founded by the Methodist Church in the mid-1800s and still today provides education for all and seeks equality for all.  Methodism traditionally shares a conviction that God has love for all people. It teaches a belief in a triune of God – Father, Son, and Holy Spirit and faith in salvation through Jesus Christ. Methodism affirms the unity of all Christians in the Body of Christ. 
Our Methodist identity today  
Being a Methodist School, and working in partnership with our Church (Richmond Methodist) and its community, helps to shape our distinctive ethos where we can embrace and promote Christian Values, teaching skills and understanding of these attributes so all members of our school family 'do all the good they can'. As a school, we also celebrate that these Christian values are not exclusive to Christianity and are valued by the wider community as they provide a moral compass for all. This is the basis for our citizenship curriculum. 
We believe, as a Methodist School, that it is our responsibility to help children develop a moral and spiritual foundation, from which to live their lives safely, with a sense of accountability and an informed respect for each other, both within our communities. This expands to a global perspective as we consider how we can 'do all the good we can' in the wider world both now and for investment in our collective futures. 
Our collective worship is organised exploration and reflection of the values listed below. They are taken from the teachings of Jesus and are by no means exhaustive. The values are organised into half termly themes. 
Year A

 

Generosity 

 

Compassion

 

Courage

 

Forgiveness

 

Friendship

 

Respect

 

Year B

 

Thankfulness

 

Trust

 

Perseverance

 

Justice

 

Service

 

Truthfulness

 
Please select a link below to explore further. 
Our School Values: ideas for family discussion and reflection. 
Christianity in Religious Education
During our Religious Education, we teach knowledge and understanding of all aspects of our wonderfully diverse society. These are evident in our question based approach within our class termly overviews. We aim to represent broad perspectives to enable our children to have an informed and balanced appreciation of their wider communities. We also encourage children to use this knowledge to develop and refine their own sense of 'spiritual self'.
As a church school, Christianity is taught specifically on a theological and conceptual basis, taking Christian accounts of the 'big story' of salvation and facilitating the relationship of our children to these texts. Our intent is to provide children with a core knowledge of 'building blocks' in relation to Christianity. The blocks build sequentially in small steps through each year and progress vertically through school, from EYFS to Year 6. We have a clearly defined curriculum where we plan carefully what children should know, understand and be able to do.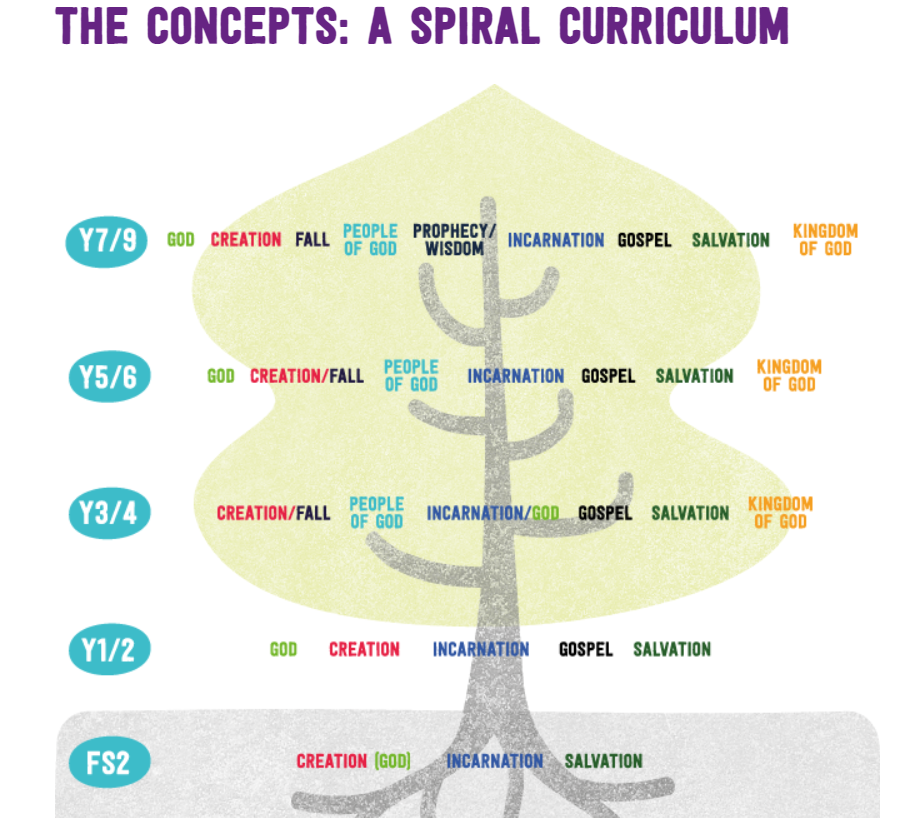 Our teaching implementation enables children to move from an understanding of the biblical text, to an understanding of what this means for Christians within the Church and in Christian living, including opportunities for pupils to examine and evaluate connections between these ideas and the wider world
Spirituality at Richmond Methodist Primary School 

Spirituality has been described as that which makes us conscious of the mystery and wonder of life and moves us to seek meaning in it. It recognises there is more to life than what we see and touch. Different things may prompt it. We aim to provide as many opportunities as we can for children to experience and reflect in awe and wonder at the wonderful and mysterious world around them. 

For Christians and Methodists, the source of all life and being is God revealed in Jesus Christ. Christian Spirituality is how people of the Methodist faith experience being drawn into the life and activity of God by his Spirit. It involves Prayer and study of the Bible but is much more. It is about the whole of life.