Well… we've made it to the end of a school year like no other and this year I would like to say a HUGE thank you to you…our amazing parents… our RMS home schooling heroes!  Thank you for all that you have done to support our children and our school in these strange and uncertain times.  We are so lucky to have such a wonderful group of parents.
Leavers 2020
It's that time of year when we say goodbye to our Year 6 and wish them every success on the next stage of their education. It is with a great deal of pride and a touch of sadness that we say 'Farewell'! I feel sad that they have missed out on so many 'normal' Leavers celebrations but pleased that we were able to keep a few of our RMS Leavers traditions alive. Their 'Leavers Shirts' were spectacular…
And here are the links to our amazing Year 6 memories shared in our Leavers Assembly… without the technical gremlins of Teams.  They are really lovely!
 Get your tissues at the ready for our Year 6 photo montage…
year 6 photo montage 2020.pptx
I feel like we have been partially robbed of such an amazing cohort of children this year – but pleased that so many of them were able to join their friends and teachers for the final few weeks of primary school and pleased that so many of you were able to join us in our Leavers Assembly. Here they are in The Northern Echo … let's celebrate our 2020 Leavers…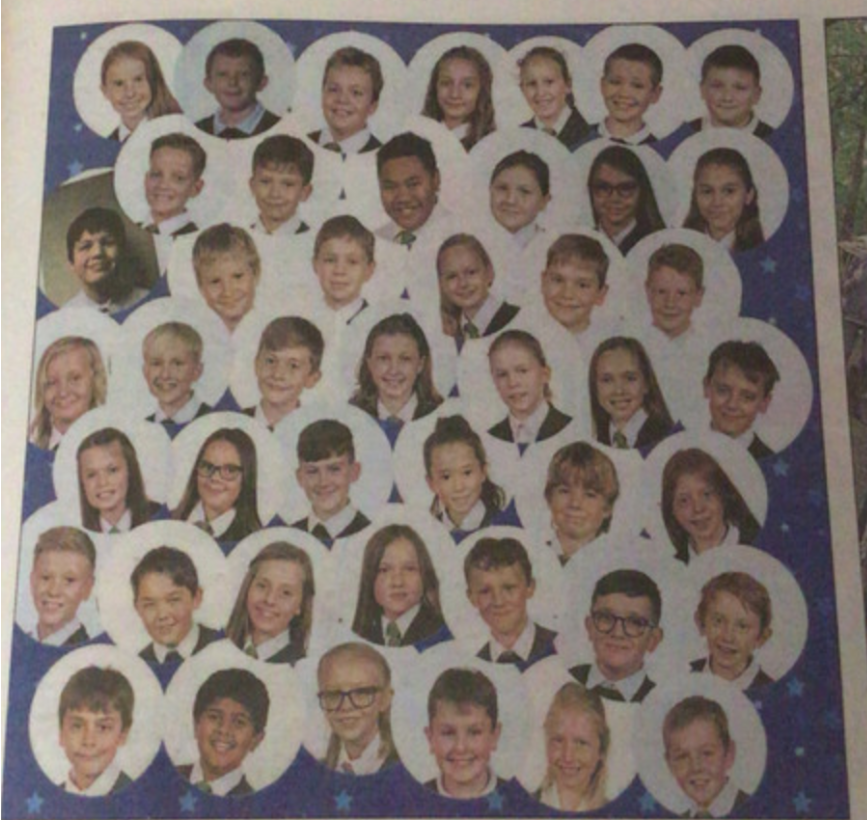 Staffing
We would also like to wish our very own Mrs Gardner and Rev Les Nevin all the very best for a happy and healthy retirement as they too move on to the next chapter in their lives. They will both be remembered for the positive impact they have had on our school and for their hard work and dedication to our RMS family. 
We are delighted to welcome Miss Dowson as our new Year 3/4 class teacher and our new Teaching Assistants Mrs Pyatt and Mrs Williams to our team.  Congratulations to Mrs Swinbank and Miss Wood on their appointments as Assistant Headteachers from September 2020.
Effective Transition
I hope your children have enjoyed meeting their new teachers via our Teams transition meetings.  Your child's class teacher will share a wonderful video a few days before school starts, showing what school will look like in September and how we will be entering and exiting and moving around school. Your family will be able to see the changes we have put in place to keep everybody safe but you will also be able to see that many things have stayed the same, including, the warm welcome, the nurturing support and positive relationships. We hope that this helps to reassure you and prepare your child for a smooth transition back to RMS. The Government expect all children to return to school at the start of the autumn term and I would like to reassure you that school has assessed the risks and put in place proportionate control measures to both minimise the risk of infection and respond to any infection.  We are fully prepared and really excited to welcome everybody back to school on Tuesday 8th September. 
EYFS and Year 1 &2 at 8.40am
Year 1/2 at 8.50am
Year 5/6 at 9.00am
Remote Education and our restorative curriculum
Thank you for taking a moment in these busy times to complete our recent parent questionnaire. We have reflected on your responses and used these to shape our restorative curriculum for September 2020 and to devise a contingency plan for remote education should a class, group or small number of pupils need to self-isolate, or where there is a local lockdown requiring pupils to remain at home.
Remote learning in Richmond Methodist Primary and Nursery School will consist of high-quality, sequential live and recorded teaching and learning via Teams, so that knowledge and skills are built incrementally, with clarity about what is intended to be taught and practised in each subject.  It will allow for daily meaningful interaction between adults and children, which provides not only ambitious learning but also effective assessment and feedback. We will also provide supervised 'playtimes', social times via Teams.
Our remote, restorative, and responsive curriculum will cover a broad and balanced range of subjects, providing frequent clear explanations of new content, delivered by a teacher in the school. Our programme of remote learning will be of equivalent length to the core teaching pupils would receive in school and include daily contact with teachers. Teaching will be differentiated and provide both support and challenge as appropriate, to meet the needs of all children.  Lessons will be recorded and streamed to allow flexible access for families. School will supply printed resources and workbooks, for pupils who do not have suitable online access.  
Younger children and some pupils SEND (Special Educational Needs and Disabilities) may not be able to access remote education without adult support so school will adapt teaching and learning materials accordingly.  
Our plan for remote education has been devised in consultation with staff and parents. We have evaluated what aspects of remote education went well and we need to keep, what aspects to stop, what aspects we need to improve and what aspects we need to start delivering that we were not able to deliver in the summer term. We will share our plan for remote learning and our plan to help prepare our RMS school community for possible periods of lockdown at the start of the autumn term.  Once again, thank you for your support with remote education since Monday 23rd March – you have been awesome
RMS Website
Watch out for the launch of our new RMS website in September. Our aim is to streamline communication and our website will be a one-stop-shop for all our school communication. We will stop using OurSchools App from September and all information will be sent via our website or Parentmail. Class teachers will continue to communicate via Tapestry and Class Dojo.
WAC (Wrap Around Care)
We are delighted to be able to resume wrap around care for all from the start of the autumn term. WAC will be available from 8am until 5.30pm for all families who require this. For children in Nursery and Reception, WAC will take place in our Foundation Stage area in Ribblesdale Class and the outdoor classroom. When dropping off and picking up, please enter school via Gate 1 and the EYFS gate. For children in Year 1 to Year 6, please drop off children using gate 2 in the middle of the hedge and follow the one-way system around school to drop off at Raydale – the Brown Classroom. For pick up, please enter Reception one person at a time. Please use the wipes available to wipe the phone after use. During WAC, children will be kept in their year group bubbles and encouraged to socially distance. Children will have lots of opportunities for outdoor activities. Please contact the school office to book your place.
Nursery
Our Nursery provision is going from strength to strength. We would love to welcome your child to our friendly and caring Foundation Stage! We are able to offer Nursery places for children from their 3rd birthday and a dedicated EYFS Wrap Around Care from 8am until 5.30pm. The EYFS setting encompasses Nursery and Foundation Stages and is currently situated within three exciting classroom, two indoor and one outdoor. We can offer flexible sessions to suit.
https://www.facebook.com/RMSEYFS/videos/2836265946502031/
Summer Sports Camp
Please don't forget that ML Sports are running their Summer Sports Camps exclusively for our RMS children week commencing Monday 20th, Monday 27th and Monday 3rd August.  Please click on the link https://www.mlsportsandfitness.co.uk/RMS to book your place.
And finally, I would like to say a huge thank you to each and every one of our school community.  Above all to our children at home or at school, who have faced so many challenges in the last five months… challenges that we never dreamed of, and who keep on smiling and keep us smiling too. To you, our parents who have juggled being critical workers, the uncertainties of being furloughed or working from home with being parents, carers and educators. To our whole staff team, who have also juggled working remotely and working in school whilst coping with the demands of family life. And to our Chair of Governors, our Governing Body and the Local Authority, who have provided support throughout this time.  I can honestly say, even in the midst of a pandemic and lockdown, I have absolutely loved my first year at Richmond Methodist School and I am extremely proud to be part of such an amazing school.
Have a wonderful summer and I can't wait to see you all on Tuesday 8th September.
With all my love and best wishes…
Mrs Sharon Stevenson
Headteacher