Nursery and EYFS
Please click here for a video tour of our EYFS class
We would love to welcome your child to our friendly and caring Foundation Stage! We are able to offer Nursery places for children from their 3rd birthday and a dedicated EYFS Wrap Around Care from 8am until 5.30pm. The EYFS department encompasses Nursery and Foundation Stages and is currently situated within three exciting classroom, two indoor and one outdoor.
https://www.facebook.com/RMSEYFS/videos/2836265946502031/

The Foundation Stage as a whole, including Nursery, is taught by both Teachers and experienced EYFS Practitioners. The children are organised according to age and preferred learning environments. Child directed learning sessions, where the children have opportunity to access any of the three Foundation stage areas, allows both classes to mix and play and learn together as appropriate. Planning is led first and foremost by the children's interests and then all EYFS practitioners 'plan in the moment' to enhance children's learning so all children are enabled to meet their potential in all areas of their development.
Our ethos follows the Development Matters in the Early Years Foundation Stage.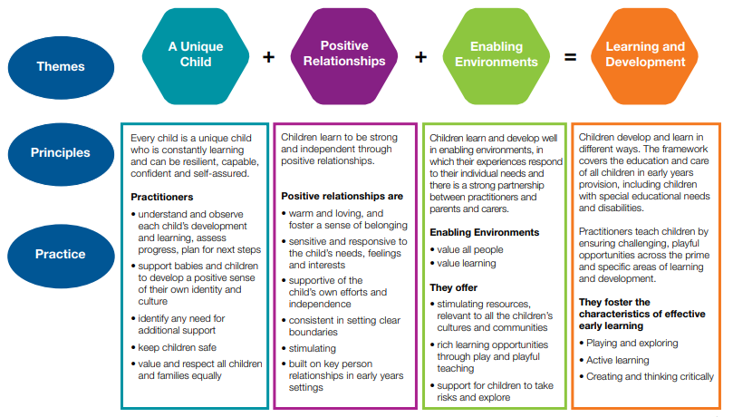 Our Foundation Stage classrooms reflect the seven areas of learning taken from the Early Years Foundation Stage profile:
1. Personal, Social and Emotional development
2. Physical Development
3. Communication and Language
4. Literacy
5. Mathematics
6. Understanding the world
7. Expressive arts and design
We place the first three areas as cornerstones on which all other learning can be built upon.
Please find more detail below:
You can catch up with what we have been busy with on our Facebook page @RMSEYFS
Our Curriculum Intent is available here:
During June we initiate meetings and visits with families and the children who are beginning Nursery or Foundation Stage for the coming September. These are adapted on a need basis but involve a combination of 'Door Step Hellos', visiting the Nursery / Pre-school settings, inviting the settings to visit with the children so they can explore their new classrooms with the existing Foundation Stage children and holding open evenings for small groups of parents to meet each other and view our learning areas. Finally, we invite you and your child to visit for a morning or afternoon session where your child can meet their new class friends and fully explore our provision. Any of these steps can be repeated if necessary to ensure the children are fully confident and comfortable with the idea of school before September. We also provide a scrap book where your child can add pictures of people, places and special belongings/objects that are meaningful to them in the journey in to beginning school or Nursery. We believe all children should feel valued and a sense of belonging from the very first instance.
These documents may be of use when considering supporting your child on this journey: