Our 
Curriculum
At Richmond Methodist Primary and Nursery School we have designed our own unique, knowledge-rich, sequential curriculum with high quality teaching and learning underpinned by our school vision –doing all the good we can. Our exceptional curriculum and enrichment opportunities have a real impact on both academic and personal development and enable children to flourish as individuals.  Our curriculum empowers children to make a positive difference for each other; their families; our community and the world.  
Our curriculum has been designed 'by all, for all'. Our whole team; children, parents, staff and Governors have worked together to ensure that our curriculum meets the needs of all children in our local context. Our unique curriculum, enables all children to have a strong voice, to be aspirational about their own future and to leave a legacy for the school, the community and the wider world.  
Assessment 
Assessment is rigorous and robust and used very effectively to fine-tune the next stages in children's learning. At it's lightest-touch, through high-quality conversations with children, through observations, looking in books and providing feedback and marking. More formally, we use termly summative assessments in maths, reading, writing, grammar and spelling. 
Our curriculum is based around the National Curriculum 2014 and the Equalities Act 2010
Overview
The national curriculum is a set of subjects and standards used by primary and secondary schools so children learn the same things. It covers what subjects are taught and the standards children should reach in each subject.
Follow this link to the Department of Education website.
Please use the links below to find out what our children will be taught.
Our Curriculum
please expand the topics below for more information
Art and Design
Intent
Here at RMS, our aim is to ensure that children are confident approaching artwork, feel a strong sense of achievement, value the impact of art within their own lives and are able to reach their full potential – 'doing all the good they can'. Our high-quality art and design education 'for all' engages, inspires and challenges children, equipping them with the knowledge and skills to experiment, invent and create their own works of art, craft and design. Our children are encouraged to think critically and develop a rigorous understanding of how art and design both reflect and shape our history and contribute to the local, national and worldwide culture and creativity.
Implementation
Our Art and design curriculum is structured in a mixture of half termly and termly units. We teach the equivalent of one lesson per week but the length of the lessons vary based on the learning activities children are undertaking and may include enrichment afternoons or days.
Children learn and develop a wide range of knowledge, skills and techniques within their art and design lessons. They learn about local, national and European artists as well as artists, architects and designers from other cultures. Our children learn about artists and designers both in history and those alive today. You can see children's developing ideas, progress and pieces of artwork in the sketch books that they keep throughout the school.
The National Curriculum for art and design aims to ensure that all pupils: 
produce creative work, exploring their ideas and recording their experiences
become proficient in drawing, painting, sculpture and other art, craft and design techniques
evaluate and analyse creative works using the language of art, craft and design
know about great artists, craft makers and designers, and understand the historical and cultural development of their art forms.
Impact: 
Our high-quality, knowledge-rich, sequential art and design curriculum equips children with the knowledge, skills, creativity and cultural capital to flourish as individuals and make a positive difference for each other; their families; our community and the world.
Summative assessments take place throughout the year and teachers record the progress and attainment against the National Curriculum expectations of attainment on FFT Curriculum Tracker. Teachers use this information to inform future lessons; ensuring children are supported and challenged appropriately.
British Values
At RMS our values are underpinned by the British values of Individual Liberty, Democracy, Tolerance, The Rule of Law and Mutual Respect. Every classroom has a British Values display which is referenced during class discussions where appropriate and a larger, interactive display is situated in the hall where children can record their own thoughts or opinions. This display is referenced in our weekly assemblies by adults and children.
These over arching British Values feed directly into our whole school values, inspired by Christian Values.
We feel this focus on Christian, yet also global generic values, provides preparation for an appreciation of life in modern Britain. This runs along side our learning about people, faiths and cultures both within and beyond Richmond.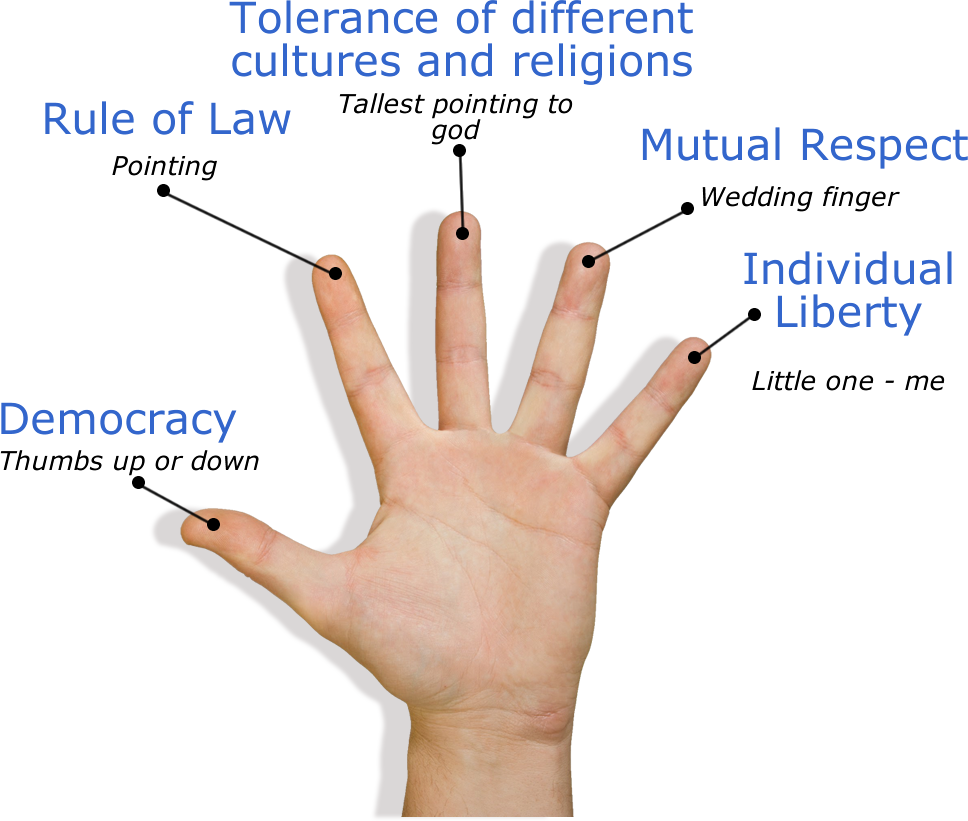 Design and Technology
Design and technology
Intent
Our RMS design and technology curriculum is 'for all'. We do 'all the good we can' to ensure our teaching and learning is inspiring, rigorous and practical and accessible 'for all'. The children acquire a broad range of subject knowledge and draw on disciplines such as mathematics, science, engineering, computing and art.
The National Curriculum for design and technology aims to ensure that all pupils:
develop the creative, technical and practical expertise needed to perform everyday tasks confidently and to participate successfully in an increasingly technological world.
build and apply a repertoire of knowledge, understanding and skills in order to design and make high-quality prototypes and products for a wide range of users.
critique, evaluate and test their ideas and products and the work of others.
understand and apply the principles of nutrition and learn how to cook.
Our children will acquire 'sticky knowledge' and will retain this knowledge in their long-term memory as life-long learning so they can always respond to new challenges, understand problems and create solutions. We aim to equip our children with the relevant and useful skills which they can then utilise to 'do all the good they can' in a rapidly changing world. 
Implementation
Using creativity and imagination, pupils design and make products that solve real and relevant problems within a variety of contexts, considering their own and others' needs, wants and values.
Through the evaluation of past and present design and technology, the children develop a critical understanding of its impact on daily life and the wider world.
The children will be taught through the main characteristics of: Designing, Making, Evaluating, Using Technical Knowledge and Food Technology.
At Key Stage 1, children will design purposefully based on design criteria. They will generate, develop, model and communicate their ideas through talking, drawing, templates, mock-ups and, where appropriate, information and communication technology. They will make, selecting from a range of tools and equipment, materials and components. The children will evaluate by exploring existing products and evaluating but also reflecting on their own creations against design technology. The children will increase their technical knowledge by building structures and mechanisms, exploring how they can be made stronger, more efficient and more stable.
At Key Stage 2, children will use research and develop design criteria to inform the design of innovative, functional, appealing products which are fit for a purpose. They will generate, develop, model and communicate their ideas through discussion, annotated sketches, cross-sectional and exploded diagrams, prototypes, pattern pieces and computer aided design. They will make by selecting from a wide range of tools, equipment, materials and components. The children investigate and analyse a range of existing products. They will evaluate their own and other's work, using collaboration to improve. They will understand how key events and individuals in design and technology have helped shape the world. Children will develop technical knowledge and they apply their understanding of how to improve more complex structures. They will understand and use electrical systems in their products and apply their understanding of computing to programme, monitor and control their products.
The principles of cooking, nutrition and healthy eating will be taught in both key stages.
Design and Technology will be taught weekly or as a block of lessons, as appropriate.
Impact
By the end of each key stage, all pupils will know, apply and understand the matters, skills and processes specified in the programmes of study.
Instilling a lovely of cooking in pupils will open a door to one of the great expressions of human creativity. Learning how to cook is a crucial life skill that enables pupils to feed themselves and others affordably and well, now and in later life.
Our high-quality design and technology education is 'for all' so all can make an essential contribution to the creativity, culture, wealth and well-being of the nation as our children 'do all the good they can', both now and in the future.
English
At RMS, we strive to deliver engaging teaching and learning which will inspire our children to love the written and spoken word and develop skills necessary for their future.
The aim of our English curriculum is to develop our children's ability to read, write and speak fluently, as well as develop grammar knowledge, spelling strategies and handwriting skills. We foster a love of English through books, poetry, drama and other communication media. We follow the statutory National Curriculum guidance.
Reading at RMS
Early Years Foundation Stage and Key Stage 1 (Years 1 and 2)
Children enjoy lots of reading opportunities in the school day, including adults reading and sharing stories with children, staff hearing children read and children reading to each other (in phonics sessions). Children are taught to read using a variety of strategies. The learning of a sight vocabulary is accompanied by the structured learning of phonics, and the development of the child's use of contextual and syntactic clues. Vital too in our approach to reading is the encouragement of pleasure and joy in books. The children's understanding of text is also developed through discussion and questioning. They have a carefully balanced programme of reading, which is targeted to their needs. The school provides a weekly programme of guided reading and shared reading, which is reinforced by a home reading programme.
Lower Key Stage 2 (Year 3 and 4)
Children develop the ability to read independently and for sustained periods of time. In the same way as it applies in Key Stage 1, the children's reading entitlement is balanced to need. Emphasis moves to the development of the understanding of a wider variety of texts. Reading for pleasure and the introduction of a wide selection of books is a vital part of the approach.
Upper Key Stage 2 (Year 5 and 6)
Reading continues to be developed to include higher order reading skills, where greater emphasis is placed on inference and deduction. Reading for understanding, skimming, scanning, precise, note taking, combining information from various texts, making references or supporting a view are all important features of the upper KS 2 reading. Time is given for reading for pleasure and the experience of a wide variety of media.
Reading Books
We follow the Collins Big Cat reading scheme. For SEN children, we use "Rapid Reads" by Heinemann and Wolf Hill.
You can find out more about Collins Big Cat books here.
https://collins.co.uk/pages/collins-big-cat
Collins Big Cat Book Bands Guide
Key Stage 1 Reading Book Bands Explained
Our KS1 reading books are colour-coded as follows:

Key Stage 2 Reading Book Bands Explained follows
Our KS2 reading books are colour-coded as:

Writing at RMS
Early Years Foundation Stage and Key Stage 1 (Years 1 and 2)
As part of our continuous provision, writing is promoted through opportunities in every area. The children are encouraged to write about things that spark their interest. The teachers deliver an input around a focus task and then are able to work with and support small groups throughout the day. Written language begins here, with a gradual development of a predominantly spoken language, to the ability to write independently in a structured and purposeful way. Children are taught to use their phonic knowledge to spell words. Pupils are taught to write both fiction and non-fiction, and also to compose for a variety of purposes and audiences. A wide variety of experience is given in speaking, and they are exposed to oral language in many styles through different media.
Lower Key Stage 2 (Years 3 and 4)
At RMS, we use exciting and inspiring texts to engage children in exploring and writing in a variety of styles and for differing purposes and audiences, using a rich and varied vocabulary. Children are taught to vary the structure of their sentences and to continue to increase the range of their vocabulary. Children's experience of texts and media of communication, written and oral, continues. Grammar and punctuation skills are taught through each lesson.
Upper Key Stage 2 (Years 5 and 6)
The skills of grammar are further developed within the context of written work. We provide many experiences where children can develop their spoken fluency and ability to communicate independently in many situations.
Phonics and Spelling at RMS
KS1:
In EYFS and Year 1 + 2, we follow "Letters and Sounds" for Phonics teaching.
https://www.gov.uk/government/publications/letters-and-sounds
Spellings are sent home and are required to be learned, ready for our weekly spelling test.
KS2:
In KS2, we follow the "No Nonsense Spelling" scheme. "No Nonsense" believes that:
Spelling should be taught, not caught – children need to learn spelling patterns and rules, statutory words, common exceptions and personal spellings. No Nonsense Spelling teaches spelling in a 'Little-but-often' structure which allows children to revisit and review, learn new strategies and apply.
A variety of strategies are suggested so that children with different learning styles can find out what works well for them. Handwriting activities are also included, to develop muscle memory of the spelling pattern.
Spellings are sent home and are required to be learned, ready for our weekly spelling test.
More information can be found here in the National Curriculum document.
Two Year Curriculum Overview – Reading
Two Year English Writing Overview
Geography
From early experiences working in their immediate and local surroundings, the children will progress to more detailed study of the earth and natural, and human, social political and cultural influences. The aim is to stimulate children's interest in and curiosity about their surroundings, to create and foster a sense of wonder about the world around and to inspire a sense of responsibility and care for the environment from the local to the global. Relationships between their own environment and the influences upon it will continue to be an important factor throughout. Such studies may be made in the context of wider themes or in specific geographical topics. A two yearly cycle of topics enables full coverage of skills, concepts and content as defined in the National Curriculum.
Our Geography curriculum aims to stimulate children's interest in and curiosity about their surroundings and the wider world, inspiring a sense of responsibility and care for the world in which they live.
At KS1 the children learn about people, places and environments in the UK and across the world. They learn about the different countries that make up the UK and their capital cities and explore their local area in detail. Weather patterns and seasonal change are observed. The children look at geographical similarities and differences through studying a small area of the UK and a contrasting small area in a non-European country. Throughout their study there is an emphasis on the development of geographical skills and the children use a variety of resources including maps, globes, photographs and digital technology to assist their learning.
At KS2 the children extend their knowledge and understanding to include Europe and North and South America, learning about environmental regions, countries and major cities. They study National Parks and rivers with a particular focus on the local area. The children compare and contrast the human and physical geography of a region of the UK, a region in a European country and a region in South America. They further develop their fieldwork skills using a wider range of apparatus including Ordnance Survey maps, compasses and our school weather station. Children are encouraged to ask questions, research answers and to take an interest in environmental issues.
Please click here to view the Two year curriculum overview for Geography
History
From early experiences working in their immediate and local surroundings and historical background, the content studied progresses both in depth and range across the key stages. The children move from a focus on changes in their own lives to those of people around them, to those beyond living memory. Study of famous personalities and significant events develops into the study of particular times, periods and societies. A two -yearly cycle of historical topics in Key Stage 1 and a four-yearly cycle in Key Stage 2 enables full coverage of the historical skills and concepts as defined in the National Curriculum.
Children in Key Stage 1 are given the opportunity to develop an awareness of the past and of the ways in which it is different from the present. They are helped to set their study of the past in a chronological framework and to understand some of the ways in which we find out about the past.
Children in Key Stage 2 are taught about important episodes and developments in Britain's past from the Stone Age to modern times, about ancient civilizations and the history of other parts of the world. They are helped to develop a chronological framework by making links across these different study units. They are given the opportunities to investigate local history and to learn about the past from a range of sources.
Please click here to view the Two year curriculum overview for History
ICT / Computer
Curriculum Intent:   
Here at RMS, we aim 'for all' children to develop computing confidence and become, "responsible, competent, confident and creative users of information and communication technology." Through a sequential and progressive skills curriculum, we aim to equip all our children with the necessary knowledge and understanding of current technologies to enable them to 'do all the good they can', and as technologies develop, enable them to thrive within a global network, digital future. We aim that all children use: "use technology safely and respectfully, keeping personal information private," and can "identify where to go for help and support when they have concerns about content or contact on the internet or other online technologies."  
The national curriculum for computing aims to ensure that all pupils: 
Implementation: 
Our whole curriculum including Computing is designed 'for all' to access and succeed. Our equality vision is built on championing fairness and 'doing all the good we can' to enable every child to meet their potential. The implementation of our curriculum is therefore responsive to need. With this core aim in mind and when appropriate, we use technology to enable equal access to aspects of our broad and balanced curriculum by scaffolding and promoting equality of opportunity, closing gaps and building confident engagement in learning. 
Computing has deep links with mathematics, science, and design and technology, and provides insights into both natural and artificial systems. The core of computing is computer science, in which pupils are taught the principles of information and computation, how digital systems work, and how to put this knowledge to use through programming. An enquiry based and problem-solving approach is cultivated. Children are encouraged to ask questions and find solutions. Building on their knowledge and understanding, pupils are equipped to use information technology to create programs, systems and a range of content. Our computing curriculum is taught within a context and purpose. Classrooms are equipped with an up-to-date screen and laptop. We have an increasing number of ipads and a suite of laptops, for use as a whole class. Children are encouraged to increase their subject knowledge vocabulary and use their increasing skills to communicate more effectively with a wider audience. In RMS, Computing is taught as a stand alone subject and used to enable and deepen learning in other subjects such as English and Mathematics. Children are taught to respect the online community, behave responsibly and keep, at all times, both themselves and each other safe. 
Impact 
A high-quality computing education equips pupils to use computational thinking and creativity to understand and change the world. Our children will be well-placed to take up their responsibilities as global citizens.  Computing also ensures that pupils become digitally literate – able to use, and express themselves and develop their ideas through, information and communication technology – at a level suitable for the future workplace and as active, responsible and respectful participants in a digital world. They will be 'Ready, Mutually Respectful and Safe'. 
Please click here to view the Two year curriculum overview for Computing
Maths
Our aim is to develop the children's numeracy skills: their understanding and concept of numbers, including fractions. We want the children to be confident when approaching calculations independently, selecting appropriate mental or written strategies. Alongside this, the children learn to use and interpret a range of tables, charts and graphs and develop their concept of shape, space and measures. Through each of these strands the children employ and extend their skills in problem solving and investigation, often in real life contexts.
Click here to view the Two Year Curriculum Overview for Maths
Modern Foreign Languages
At Richmond Methodist Primary School, we aim to stimulate children's curiosity about languages and cultures from around the world, with a particular focus on French language and culture.
The children at KS1 and KS2 have 30 minutes of French per week. At KS1, the children learn about the language and French culture in a fun way through songs, games and creative activities. At KS2, where a foreign language is now statutory, French is taught following the North Yorkshire Scheme of Work and is delivered by a French language specialist. Here children extend their oracy skills and develop literacy skills as well in a variety ways including songs, games and poetry. As far as possible, cultural knowledge and oracy skills are consolidated and extended in other areas of the curriculum.
Music
The children will learn to listen to, appraise and respond to a range of live and recorded music from different times and cultures. They will use voice, tuned and un-tuned instruments to rehearse and perform with others. From year 3 children have the opportunity to receive recorder tuition during school time.
Other instrument tuition is provided by the North Yorkshire Music Service.   There are costs involved, and full details of the scheme are available from the school.  Currently brass, flute, clarinet, violin, cello, guitar, percussion and keyboard are taught. These lessons are in school time.   Some privately taught lessons also take part during the school day.  The school tries to rotate the lessons as much as possible to reduce the impact of time out of lessons. 
At school, we provide an extra curricular orchestra, and we encourage all those who learn instruments to take part. There is also a very active choir, which, like the orchestra is available to all Key Stage 2.  In addition to this, there is a fun Singing Club for the Year 1 and Year 2 children.
We hold a bi-annual musical concert to allow the children to showcase their instrumental playing and singing.  We take part in other musical concerts throughout the year, such as the Richmond Town Carol Service, aswell as performing at the events held by our 'Friends of Richmond Methodist School' (FORMS).  We compete in the Wensleydale Tournament of Song taking both the Orchestra and Choir.
Click here to view the Two year curriculum overview for Music & NC
Click here to view the Two year curriculum overview for General Music
Personal ,Social, Health, & Citizenship Education (PSHCE)
Click here to view the Two year curriclum overview for P.S.H.E
Intent
Here at RMS, our Personal, Social, Health and Economic Education Curriculum (P.S.H.S.E.E) is the core of our wider curriculum and through which our pupils develop the knowledge, skills and attributes they need to keep themselves healthy and safe, and prepared for life and work. We want our children to thrive in the development of personal attributes such as kindness, integrity, generosity, and honesty. All at Richmond Methodist Primary School, (RMS), inclusive of adults and children, endeavour to 'do all the good we can' and we aim to enable children to continue to be reflective, resilient and responsible members of their local, national and global communities. In particular, we seek to ensure our curriculum is tailored around the specific needs of our children, creating a school community that sets inclusiveness and equality at the heart of everything we do. Our school is a welcoming place and our children believe in the values both British and Christian that underpin who we are. Alongside our Religious Education Curriculum, we aim to place our P.S.H.E curriculum as integral to our Spiritual, Moral, Social and Cultural education. We also ensure our children gain a sound understanding of financial themes.
Implementation
Our curriculum is well planned, sequential and structured. It builds in developmental progression by revisiting themes in each year group, so learning is age appropriate and continually enhances prior learning. In line with the PSHE Association recommendations, our curriculum develops skills and attributes such as resilience, self-esteem, risk-management, team-working and critical thinking in the context of three core themes: health and wellbeing, relationships and living in the wider world (including economic wellbeing and aspects of careers education). Our planning incorporates trends identified through data generated through the Growing Up in North Yorkshire Bi-annual Questionnaire and also Pupil Conferencing on themes that matter most to the children themselves. We deliver our P.S.H.E.E. curriculum through a question-based model, using age appropriate stimulus including stories, discussions, role play and online resources. We provide opportunities for children to safely try out their new knowledge, ideas and skills so it can be used confidently in real life situations. Relationships and sex education (RSE), is delivered sensitively and inclusively, with respect to the cultural context of each child and as in integrated part of our developmental PSHE education programme. School recognises that for many themes, parents and carers are the prime educators and school builds on this prior learning.
Impact
Our children are 'ready, respectful and safe'. They feel welcomed and are welcoming to all people and new experiences. They are reflective, respectful, responsible and resilient. They understand how to keep themselves and others safe.
NYCC Curriculum Entitlement Framework for PSHE and Citizenship
Guide for Parents & Carers Educating Children at Home
Relationships and Health Education
What does Relationships and Health Education mean for your child?
Sex and Relationships Support for Parents
Understanding Relationships and Health Education in your child's primary school: a guide for parents
Relationships education, relationships and sex education (RSE) and health education: FAQs
Talking to your child about Sex and Relationships
The School has a Relationships and Sex Education (RSE) Policy, available on request, formed after consultation with parents, teachers and governors. It determines our curriculum which has been planned using statutory guidance and in line with the P.S.H.E Association Programmes of Study. Our RSE content is interwoven within our P.S.H.C.E curriculum and also through other relevant curriculum areas such as Science. The key content of our RSE Policy is detailed in the following letter to parents. LETTER TO PARENTS
British Values
At RMS our values are underpinned by the British values of Individual Liberty, Democracy, Tolerance, The Rule of Law and Mutual Respect. Every classroom has a British Values display which is referenced during class discussions where appropriate and a larger, interactive display is situated in the hall where children can record their own thoughts or opinions. This display is referenced in our weekly assemblies by adults and children.
These over arching British Values feed directly into our whole school values, inspired by Christian Values.
We feel this focus on Christian, yet also global generic values, provides preparation for an appreciation of life in modern Britain. This runs along side our learning about people, faiths and cultures both within and beyond Richmond.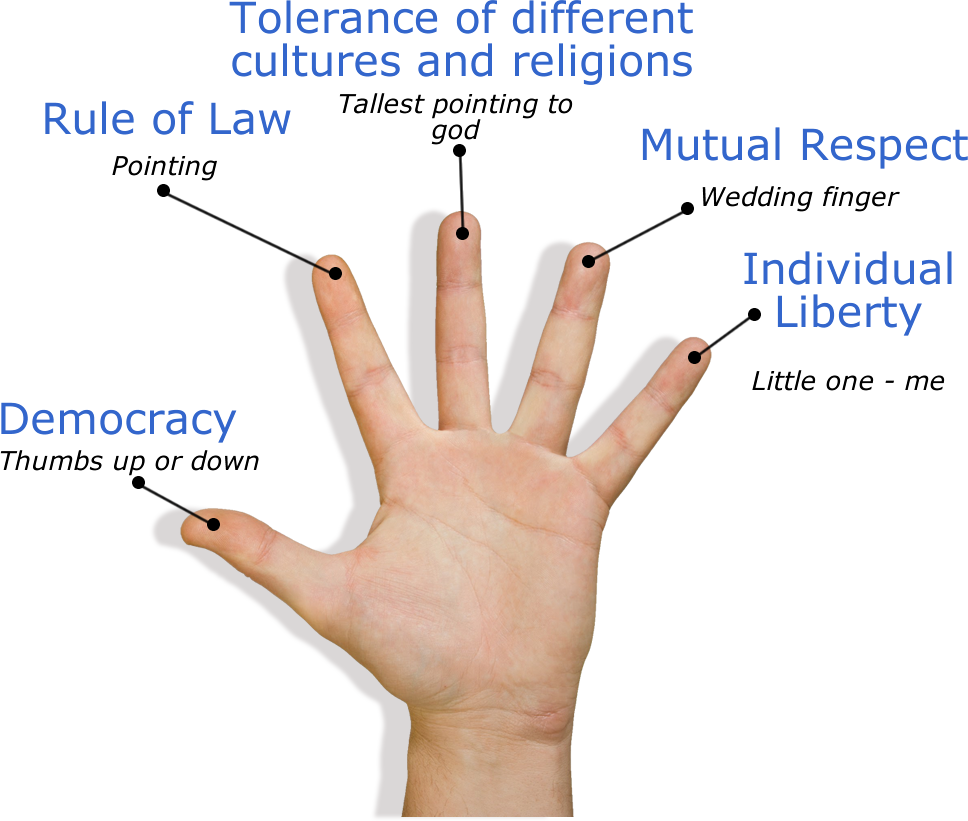 PREVENT – what does it mean and how can I help
All teaching and non teaching staff have attended the PREVENT training.
Protecting children from radicalisation: the prevent duty
Educate Against Hate – Parents Hub
Mental Health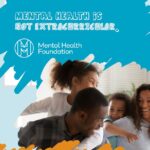 Please click here to see sleep and Tiredness – NHS advice
Please click here to see Yoga ideas for children page
(school is not responsible for content- parents and careers should always follow ideas and suggestions as they feel is appropriate)
Anti Bullying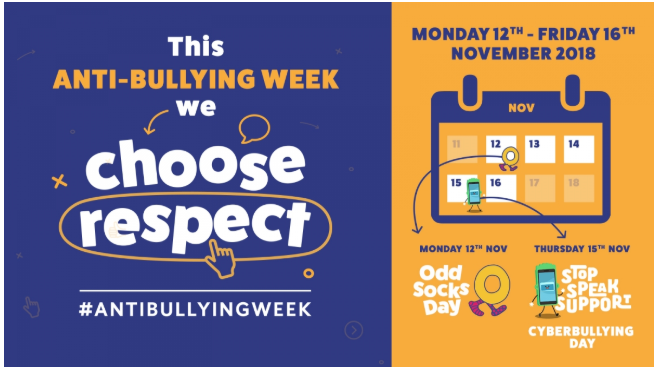 At RMS we whole heatedly agree with the Anti-Bullying Week aims and spent the week discussing:
The definition of respect
That bullying is a behaviour choice
That we can respectfully disagree with each other i.e. we don't have to be best friends or always agree with each other but we do have to respect each other
That we all need to choose to respect each other both face to face and online
We hope this work enables us to continue to learn and grow as members of the school and wider community.
pshce-approach-to-bullying-pack
Top tips for children and young people
Top tips for parents and carers
Economic well being
Safeguarding support for parents and carers
Talking Pants – NSPCC


Roadwise for Schools

Healthy food & activity tips for you & your kids | Change4Life

Talk to Frank
Friendly and confidential drug advice for parents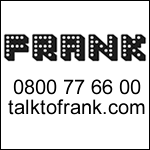 Physical Education
The children will receive physical education through exploring their physical environment and developing their bodily co-ordination and motor skills. The emphasis is put upon exploration and creative co-ordination in movement. PE is broadly divided into four strands:
Games –which include ball skills and ball games in Key Stage 1, and in Key Stage 2 football, rugby, netball, hockey, cricket, basket ball, volley ball, tennis and rounders.
Gymnastics – involves developing skills on the floor and apparatus.
Dance – a variety of themes are taught, some linking with other subjects, others taught as discrete dance projects.
Outdoor and Adventurous Activities – this element of the curriculum is largely covered by two residential visits that take place in Years 4 and 6.
In Key Stage 2 athletics is taught. There are opportunities for extra curricular teaching in football, netball, hockey, cricket, rugby and basket ball. In years 3 /4 swimming is taught. It is also available to those children in Year 5 and 6 who have not achieved their 25 metre certificate. Parents should note that there is a request for a voluntary donation to cover the cost of pool fees and transport. However, no child is excluded on grounds of cost.
Religious Education
Please click here to view the Two year curriculum overview for R.E
Curriculum Intent (Why we teach R.E and Spiritual, Moral, Social and Cultural Education)
At RMS, our Spiritual, Moral, Social and Cultural (S.M.S.C.)curriculum is omnipresent throughout all our learning but particularly, Religious Education, and ensures each child maximises their personal development, enabling them to be the best version of themselves. We do this by encouraging children to learn about faiths, (including humanism, agnostic and atheist identities) and reflect on what this means to them. Through this process, the children's sense of self thrives and flourishes. We want children to strive to 'do all the good they can, by all the means they can, in all the ways they can, in all the places they can, at all the times they can, to all the people they can, as long as ever they can'. This is our Methodist ethos, we promote it in every interaction in our school . Our Religious Education gives us the opportunity to reflect on ways we can 'do all the good we can', using the teaching of different faiths to guide our ideas so as to better understand the influences on ourselves and our communities. We value the SMSC learning children experience at home and work in partnership with both families and the Methodist Church. To be a responsible Global citizen, we need to know and understand our global communities. Understanding and a shared cultural capital enables peace and harmony.
Implementation (How we teach R.E and S.M.S.C)
Spiritual development
We explore beliefs and experiences. We foster awe and wonder. We respect the ideas of people of all faiths and people with no faith. We value each other's feelings and opinions. We enjoy learning about ourselves, others and our world. We use imagination, creativity and offer opportunities to reflect in our collective worship, R.E, PHSE and school environment. We welcome and support all in school and look for opportunities to care for our community.
Moral development
We learn to make the right choices. We respect the law and understand the consequences of positive and negative choices. We appreciate the role of Britain's democratic parliamentary system. We investigate moral and ethical issues without conflict, prejudice or bias. We study philosophy to enable us to question, evaluate and grow our sense of self. We offer reasoned views through engaging with our twelve 'Values for All' our ethos and our behaviour policy.
Social development
We use a range of language and communication skills. We all have a voice. We participate in the local community. We appreciate diverse viewpoints. We participate, volunteer and cooperate. We empathise to develop strategies to resolve conflict and learn the value of democracy. We strive towards understanding so we promote peace and harmony.
Cultural development
We appreciate our shared culture and explore fully our together heritage. Our History is an important part of our present and future. We look for links, causes and effects. We learn about other cultures, celebrating both similarities and differences. We appreciate diversity but understand the need for community. We participate in as many cultural opportunities as possible so we can appreciate their influences.
What is the difference that this makes? (Our impact)
Through our SMSC learning, we aim to improve academic standards but also create an equality of opportunity and maximize our children's life chances. We will build a cohesive, harmonious community through a well-rounded understanding of both self and a respect, through understanding, for others.
Our children leave KS2 able to look back on an secure, engaging and happy primary education and can be proud of their successes. They are able communicators, responsible citizens and resilient life-long learners. We want them to be confident that they have always done 'all the good they can' and both made and been good friends. The children are able to encourage others – when necessary have leadership skills, but above all, interested in the world around them and keen to make a positive contribution to society. We hope that they will be willing to share and reflect upon their own and others perspectives and thoughts, be able to work with others, without prejudice, understand changes and be eager for challenge.
The children take part in acts of worship during assemblies.
Parents have the right to withdraw their children from RE teaching and should contact the headteacher should they wish to do so.
Science
We aim to develop the children's own natural curiosity in the world around and to develop careful investigation and exploratory skills. Through these we endeavour to extend understanding and knowledge of a wide variety of natural physical phenomena through study of biology (living things), chemistry (materials and their behaviour) and physics (e.g. forces, light and electricity). Children will participate in scientific enquiries, including; observing changes over a period of time; looking for patterns in their results; classifying and grouping; testing out their ideas practically and researching using secondary sources such as books and the internet.
Please click here to view the Two year curriculum overview for Science